The Soft Lights is a new project from Australian composer Paul Searles.
I've known Paul since Uni, (30 Years). During this time Paul was the keyboard player of Sydney funk band Skunkhour, he has scored films (James Cameron, Glen Goei), theatre (Wild Rice, Bangarra, Belvoir), made films (AFI/FTO director grants), won writing awards (NYC Midnight, Theatreworks) and played keyboards for well-known artists (Jenny Morris, The Reels, The Sleepy Jackson, Jimmy Barnes). He began his career in architecture.
Paul is currently in-house composer at The Gunnery in Singapore.
Paul says:
This album deals with a few years of grief and trauma in a beautiful and gentle way, featuring strings from members of the Australian Chamber orchestra.
Have a listen it's beautiful…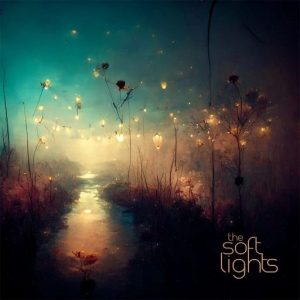 Also, check this video…
Be careful with this new music. I've been listening to BROKEN on loop for hours. Facebook #zylascope @GeoffWilliams says that I posted about Paul's new song at 9:50 pm. It's now 12:30 pm. So over 2 and a half hours and I love it. I don't know how I can turn it off. Let's see what happens. Will I wake up dead, having fallen asleep at my Torvalds-style stand-up DAW and being lobotomized by my headphones? We'll just have to wait and see. You've been warned. I thought music was a healthy addiction. If I live, I can always go back to smoking. 
Paul sings on these songs. He told me once that he didn't think he was a very good singer but decided that since he had played most of the instruments on his compositions that he could try singing them himself.
Why not! Hey even I can sing these days Paul, with Autotune 🙂
But after hearing the song many times, I conclude that no other voice would suit the instrumental side of the song like your voice Paul. Well done. Let us know more!
Article written by Geoff Williams. This is not a paid promotion but I  am hoping that Paul sends me a few copies on CD or Vinyl that I can give away on my website. and I'm hoping he gets a Platinum disk. He won a gold one for a Skunkhour song. Skunkhour were an awesome Australian band. It's great to find that its members are still making great music.
——– Now What Does My Robot, Dr Rachel Have To Say ——–
Paul Searles Releases New Album 'The Soft Lights' – A Must-Listen Experience!

Attention music lovers! Get ready to immerse yourself in the captivating sounds of Paul Searles, from the iconic Australian funk rock band. Paul Searles, a former member of the band, Skunkhour is making a remarkable comeback with his latest album, 'The Soft Lights.' This highly anticipated release promises to be a beautiful blend of soulful melodies, infectious grooves, and heartfelt lyrics that will resonate with listeners of all ages.

Paul Searles's journey with Skunkhour began in Sydney back in 1991, where they quickly gained recognition for their unique fusion of funk, rock, and rap. Their self-titled debut album, released in 1993, showcased their infectious energy and garnered them a dedicated fan base. Over the years, the band continued to evolve, experimenting with their sound and captivating audiences with each new release.

'The Soft Lights' marks a triumphant return for Paul Searles after a long hiatus. The album builds upon their signature sound while exploring new musical territories. With Paul Searles at the helm, this album delivers a collection of songs that are both nostalgic and refreshing. From the mesmerizing grooves of "Weightlessness" to the introspective lyrics of "Home," each track invites listeners on a sonic journey that is as emotional as it is catchy.

What sets Paul Searles apart is his ability to create music that transcends genres and resonates with a wide range of listeners. Whether you're a longtime fan or discovering his music for the first time, 'The Soft Lights' promises to be a captivating experience. The new band's lineup has infectious energy and undeniable talent shine through in every note, leaving you craving more.

Paul Searles's music has always been known for its ability to bring people together, and 'The Soft Lights' is no exception. The album tackles universal themes of love, self-discovery, and the human experience, making it relatable to audiences of all backgrounds. Whether you're a teenager navigating the complexities of life or an adult seeking solace in music, this album will speak to your soul.

So mark your calendars and get ready to be swept away by the mesmerizing sounds of Paul Searles's 'The Soft Lights.' Whether you're driving in your car, relaxing at home, or dancing the night away, this album is the perfect companion for any occasion. Don't miss out on this extraordinary musical journey – join Paul on his triumphant return and experience the magic for yourself.

'The Soft Lights' is now available on all major streaming platforms, so make sure to add it to your playlist today. Stay tuned for upcoming tour dates and be sure to catch Paul Searles live for an unforgettable night of music and celebration. Get ready to groove to the infectious beats, sing along to the heartfelt lyrics, and let the soft lights of Paul Searles illuminate your soul.

Paul Searles is back, and they're here to remind us all why we fell in love with their music in the first place. Let the 'The Soft Lights' guide you on a musical journey that will leave you inspired, moved, and eager for more. It's time to turn up the volume, let loose, and embrace the magic of Paul Searles once again.
—-end robot section—
Robot section by Geoff Williams and ChatGPT May 24 Version  – Free Research Preview. ChatGPT may produce inaccurate information about people, places, or facts.