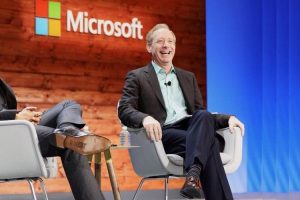 Eternal Blue 2 – A Cure For Cancer In Ten Years. Digital Geneva Convention…
Monday, 8 May 2023
5:51 PM
Brad Smith, "Tools and Weapons" – YouTube
An audio sample of Brad Smith with new Zylascope music preview in the background…
Educating about "Eternal Blue" and Microsoft's Efforts: Insights from Brad Smith's "Tools and Weapons"
Hey everyone! Today, I wanted to share some eye-opening insights from Brad Smith's remarkable book, "Tools and Weapons," focusing on a critical topic that affects us all: "Eternal Blue."
"Eternal Blue" refers to a powerful cyber weapon that was originally developed by the United States National Security Agency (NSA). However, it fell into the wrong hands and was ultimately weaponized, causing widespread havoc and disruptions across the globe.
In his book, Brad Smith, the President of Microsoft, sheds light on the urgent need for collective action to address the challenges posed by cyber threats like Eternal Blue. He emphasizes the importance of collaboration between governments, organizations, and individuals to tackle the ever-evolving landscape of cybersecurity.
One of the key takeaways from "Tools and Weapons" is the vital role that technology companies, including Microsoft, play in defending against cyber threats. Brad Smith outlines the immense responsibility Microsoft bears and the proactive steps they are taking to protect users' privacy and security.
Microsoft recognizes that cybersecurity is a shared responsibility, and they actively engage with governments and organizations worldwide to develop robust defenses against threats like Eternal Blue. They invest heavily in research, technology, and talent to stay one step ahead of adversaries.
Moreover, the book highlights the importance of transparency, ethics, and accountability in shaping the technology landscape. Brad Smith emphasizes the need for a Digital Geneva Convention, which would establish clear rules and norms for cyberspace to safeguard individuals and nations alike.
By raising awareness about Eternal Blue and the broader challenges in cyberspace, we can collectively work towards a safer and more secure digital future. It's crucial that we educate ourselves, our friends, and our family members about these issues and the efforts being made by organizations like Microsoft.
So, let's dive into "Tools and Weapons" and equip ourselves with knowledge and insights to navigate the complex world of cybersecurity. Together, we can create a more resilient and protected online environment.
If you're interested in learning more, I highly recommend grabbing a copy of Brad Smith's book. Let's join forces and empower ourselves to address the challenges of the digital age head-on!
Additionally, Brad Smith's book also highlights his confidence in the potential of AI to help us cure cancer within the next 10 years and tackle numerous other challenges for the betterment of humanity.
#Cybersecurity #EternalBlue #ToolsAndWeapons #Microsoft #StaySafeOnline #DigitalFuture