The new (2019) Boss SY-1 Guitar Synthesiser Pedal turns your guitar into a synthesizer! No need for a special MIDI pickup and no for an external keyboard or sound module. You just plug your guitar in and turn a knob to select a sound from 11 sound banks. Inside each sound bank there are 11 different sounds (voices). So that's what the two knobs on the right do.
On the far left is a double knob. It allows you to set the volume of your guitar and the volume of the synth. The second knob in from the left allows you to alter the synthesised sound by changing the depth and rate, also on a double concentric knob.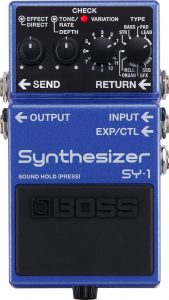 As you can see, below the input, there is an input jack for an expression controller. You can add this to alter the effects while you play.
It also has a send and return channel so you can easily connect other effects processing.
There is a switch on the back so that you can use this for bass guitar or 6 string guitar.
The Boss SY-1, like other Roland Boss effects pedals, is made of cast metal and is very robust. It runs on a 9-volt battery and can also run from a 9-volt plug pack.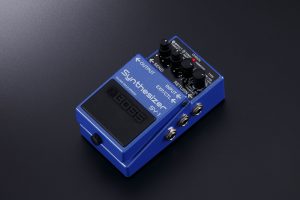 When mine arrived recently I was surprised to discover that it came with a new 9-volt alkaline battery.
Thanks and well done Roland. The SY-1 gets 10 out of 10 from me!
I've had so much fun playing guitar with this pedal. If you're going to be locked-down, be locked-down with this pedal.
Order one today, it's a load of fun and gives you 121 sounds, plus variations, there are even some rhythm and percussive sounds and some arpeggio sequencer-type sounds to give your performance many more colours.
Article by Geoff Williams