I recently purchased a pair of Edifier R1280DB 2.0 speakers for my . I bought them on eBay for around $140 AUD ($91 USD) with free delivery in Australia. They are impressive-sounding speakers and are quite small. The dimensions of the speaker boxes are 5.75in x 9.5in x 7in (WxHxD). They contain a 4-inch bass/woofer and 13mm silk dome tweeter. They have a claimed frequency response of 55Hz-20KHz, to my hear I'd say that's accurate. The power output is 21 Watts per channel. With an excellent signal to noise ratio. I'm used to hearing hum and noise coming out of speakers when there is no music coming out of them, when they're turned on, idle. But these speakers are perfectly silent at those times.
The Edifier R1280DB 2.0 speakers are great if you have a home studio or if you are building one.
They have an infrared remote so you can change volume,  switch between inputs conveniently or turn it on or off.
They can accept input from two separate stereo RCA line-in channels, Coax digital, Fibre Optic digital or Bluetooth. They come with a cable to convert from a 3.5-inch plug to RCA line input for smartphones. So they can be used to listen to just about anything from HiFi stereo systems, smartphones, tablets, laptops, desktop computers and many other devices. I've been using them with my Microsoft Surface and my Android smartphone and they sound great. Good solid bass and crystal clear top end. And the boxes are decently heavy, in weight, for such a small box. They don't cause any horrible vibration sounds that I've had with plastic PC computer speaker boxes in the past.
I bought them for the purpose of doing the mastering stage of my new album. Because I composed and recorded the album using a pair of PC speakers, that I bought second hand, and a pair of headphones. Neither if those give an accurate idea of how people will listen to it.  You really need good speakers with good frequency response for mastering.
I bought the black ones but they are also available in a wood finish version…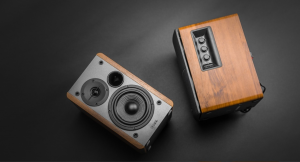 They have controls to adjust EQ. A treble and bass control on the speaker box and can also be adjusted on the remote.
The very best part of the Edifier R1280DB 2.0 speakers is that they connect to your device via Bluetooth. So no cables, except for the mains power cable of course. There's also the speaker cable that connects the main powered speaker to the passive one. Bluetooth makes it simple to switch the speakers to another input. In the situation when friends gather for a party they can easily connect their phones and play their songs.
Get your own pair of Edifier R1280DB 2.0 bluetooth speakers from Amazon.