Are you concerned about your health? Smoking is a big killer. I struggled for over 25 years as a smoker. I tried quitting countless times, only to eventually go back to it.
Why is it so hard to quit smoking, I used to wonder. Why do I do it to myself? If only I could quit and stay quit, I could save some money. A friend told me about a book he read in 1994 that helped him to quit and stay quit. The answers to how cigarette addiction works and how to beat it are in this book.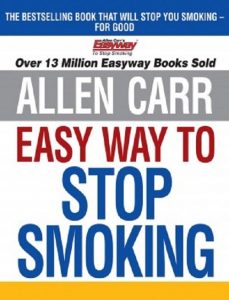 The book is called "The Easy Way To Stop Smoking by Allen Carr"
It's a short book of around 100 pages. I got the book and read it. Within 3 days I had finished the book and I had quit smoking for the final time. And it really was easy. This book is not what you might be thinking… It's not a book that's full of statistics on the dangers of smoking. It is not designed to scare you out of smoking. That wouldn't work.
It works by giving you the knowledge of how the addiction operates and this, in turn, gives you the understanding and power to defeat it. I've been quit for 7 years (as of January 2021). Once you stop smoking you will feel better and you will have so much more money to spend on the things that you really want.
One of the worst parts about being a smoker was that I was always running low on money, running low on food and petrol. Always feeling that I was running low of food and money was a terrible feeling. Living that way was awful.  Always running low on petrol created a constant anxiety worrying that I would get stuck somewhere. I no longer have that experience. Thankfully.
The book is around $10, depending on where you buy it. You can get a great deal at Amazon. I highly recommend this book. It has allowed me to save thousands of dollars and very likely has added many years to my life. I have more energy, I no longer smell like an ashtray, and I spend my surplus on good food, fruit, computers, gadgets, a new guitar and my electro-chemistry hobby. This book can save your life and it can save you thousands of dollars that would otherwise have been spent on cigarettes or on medical bills.
You can get the book by clicking here.
by Geoff Williams
zylascope.com